Welcome to 2021 ASCO Annual Meeting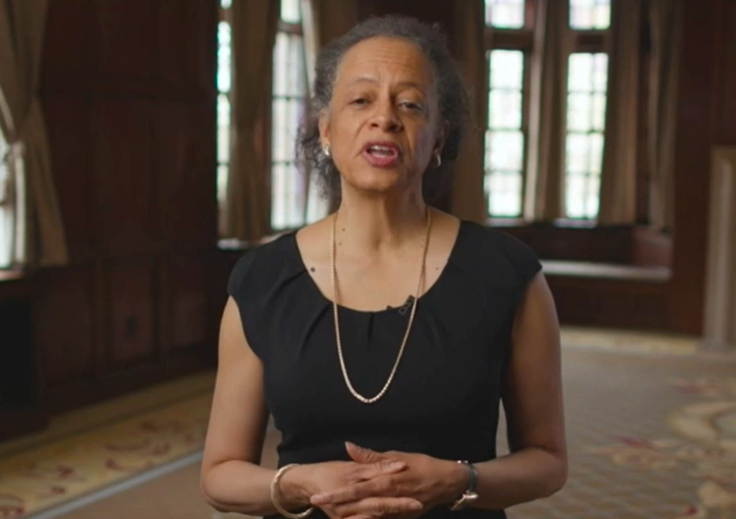 Lori J. Pierce, 2020–2021 ASCO President
The 2021 ASCO Annual Meeting, now in its 57th year, took place under a virtual format for a second year on 4–8 June 2021 due to the ongoing impact of the COVID-19 pandemic. This year's presidential theme was 'Equity: Every Patient. Every Day. Everywhere,' which aimed to highlight the importance for oncologists to use this moment of cancer progress to be certain that health equity in cancer care becomes a reality for all patients. Opening the meeting, ASCO President Lori J. Pierce highlighted this year's focus on a critical safe path forward and asked attendees to identify ways to ensure that all patients can access and benefit from the latest cancer advances and high-quality cancer care. Dr Pierce noted that over the past year, the COVID-19 pandemic has highlighted the pervasive and unjust health inequities that exist all over the globe. Whether barriers result from geography, race/ethnicity, age, sexual orientation and gender identity, health insurance, culture, or trust – or all of these, she added that physicians have a responsibility to meet them head on.
"Together, we need to confront and address complex forces and systems that have created disparities in cancer care, treatment, and research."

Lori J. Pierce, 2020–2021 ASCO President

Genitourinary cancer
Treatment
Given that immunotherapies are now firmly established in the treatment of advanced kidney and bladder cancers, a number of issues regarding their management and their curative potential were discussed during the 2021 ASCO Annual Meeting. Mamta Parikh, University of California, Davis Comprehensive Cancer Center, Sacramento, USA, explored the period of time that a responding patient should remain on immunotherapy. The optimal duration of immunotherapy is not simple to assess, given that studies of relevant agents vary in their design:
However, long-term response data can help to inform clinical practice. For example, in the intent-to-treat population in the CheckMate-214 study, 140 patients had an ongoing response at 4-year follow-up, while only 53 patients remained on therapy at that point, which suggested a sustained response following treatment. It is anticipated that the availability of prospective data from the recently initiated A031901 study (NCT04637594) will help to define the optimal duration of immune checkpoint inhibitor therapy, although additional studies are needed. Dr Parikh highlighted the importance of shared decision-making with patients, particularly given that some may find continuing therapy burdensome due to the need for regularly scheduled infusions, while others may find the prospect of stopping treatment to be detrimental to their emotional wellbeing.
"Available data suggest that some patients maintain response on or off treatment, and certainly after two years of treatment, it would be reasonable to consider holding further immunotherapy."
Mamta Parikh, University of California, Davis Comprehensive Cancer Center, Sacramento, USA

Brief discussion with a patient provided a perspective on the possible decision to stop immunotherapy. The patient explained that after various other treatments for bladder and kidney cancer, he had since received at least 60 immunotherapy infusions given every 28 days, with good therapeutic outcome. While his doctors had suggested that he discontinue therapy, given the long treatment duration and continuing response, he had decided against this medical advice, given his experience with multiple cancer diagnoses and the worry that discontinuing therapy could lead to disease relapse. Dr Parikh noted that available clinical data support the idea that cumulative toxicity is not a significant issue with immunotherapy, although continued vigilance by physicians remains important in those patients receiving immunotherapy for extended periods.
Thomas Powles, Barts Cancer Institute, London, UK, examined whether immunotherapy had curative potential in patients with advanced kidney and bladder cancer. In order to cure more patients, Dr Powles highlighted the importance of three key requirements:
Three important key requirements for curative potential of immunotherapy
While radiological complete responses are not actually well-correlated with 'cure', given that median progression-free survival (PFS) in many patients with complete responses is still relatively short, durable responses are being achieved. Approximately one-third of patients with advanced RCC treated with ipilimumab plus nivolumab achieve a long-lasting response, and a similar result has been reported with avelumab in advanced UC. For kidney cancer, the ever-increasing use of molecular subgroups as an alternative approach to International Metastatic RCC Database Consortium risk groups could help to guide patient selection. In particular, there is strong correlation between tissue and plasma samples in UC with regard to fibroblast growth factor receptor (FGFR) gene alterations, suggesting a possible future move away from tissue-based biomarkers. Immunotherapy agents themselves also continue to improve – new agents such as belzutifan and novel antibody-drug conjugates show promise. In addition, triplet combinations may have curative potential, with Dr Powles highlighting an ongoing phase III study of durvalumab in combination with tremelimumab and chemotherapy for unresectable UC (NCT03682068) which could 'cure' a subgroup of patients.
"With regard to patient selection, physicians might need to move away from using programmed cell death ligand 1 as a biomarker in advanced UC, as this has produced mixed results."

Thomas Powles, Barts Cancer Institute, London, UK

Effect of pembrolizumab following nephrectomy in patients with clear cell RCC
While the standard-of-care (SOC) treatment for patients with locoregional RCC is surgery, nearly half of patients eventually experience disease recurrence. Currently, there is no standard adjuvant systemic therapy that is supported by high levels of evidence worldwide.
Data from the phase III KEYNOTE-564 study (NCT03142334) shared at the plenary session demonstrated that adjuvant pembrolizumab led to a significant reduction in the risk of disease recurrence or death versus placebo following nephrectomy in patients with clear cell RCC (LBA5). At a median follow-up of approximately 24 months, median disease-free survival (DFS) was not reached with either pembrolizumab (n=496) or placebo (n=498) as per investigator assessment.
"KEYNOTE-564 is the first positive phase III study of an adjuvant immunotherapy for patients with RCC and pembrolizumab is a potential new SOC for patients with RCC in the adjuvant setting."

Toni K. Choueiri, Dana-Farber Cancer Institute, Boston, USA

Effect of 177-Lu-PSMA-617 plus SOC in metastatic, castration-resistant prostate cancer
Data from the phase III VISION study (NCT03511664) showed that patients with advanced prostate-specific membrane antigen (PSMA) positive, metastatic, castration-resistant prostate cancer may benefit from treatment with the radiolabelled antibody lutetium-177–PSMA-617 (177-Lu–PSMA-617) plus SOC versus the SOC alone (LBA4). 177-Lu–PSMA-617 delivers ß particle radiation to PSMA-expressing cells and the surrounding microenvironment. Compared with SOC alone, 177-Lu–PSMA-617 plus SOC was reported to significantly prolong the median duration of radiographic PFS (8.7 vs 3.4 months; HR 0.40; p<0.001) and overall survival (OS; 15.3 vs 11.3 months; HR 0.62; p<0.001).
"Data from the VISION study support the adoption of targeted radioligand therapy as a SOC."

Michael J. Morris, Memorial Sloan Kettering Cancer Center, New York

Jean H. Hoffman-Censits, Sidney Kimmel Comprehensive Cancer Center at John Hopkins, Baltimore, USA, discussed sex-based disparities in bladder cancer. While women are much less likely to be diagnosed with bladder cancer, mortality rates are higher than those reported in men who are diagnosed with bladder cancer. In addition, while the most common presenting symptom of bladder cancer for both men and women is either microscopic haematuria or gross haematuria, the diagnostic 'work-up' appears unequal between the sexes:
Median time from presentation to cytoscopy evaluation
Women are also more likely to undergo more urine cultures, be prescribed more courses of antibiotics, and be referred to non-urologist specialties. Quality of patient evaluation (urologic consultation, endoscopic evaluation, and imaging) also remains poor, with women, particularly Black women, being less likely to undergo complete evaluation than men.
As women are typically older than men when receiving a diagnosis of bladder cancer, this may impact on clinical decision-making and limit the provision of therapy with curative intent. However, there is no difference in OS for women and men receiving chemotherapy for bladder cancer based on pooled data from a number of clinical studies.
Sex-based disparities in bladder cancer
"Incomplete evaluation of bladder cancer in women has important consequences – it may lead to disease stage inaccuracy which in turn affects outcomes."

Jean H. Hoffman-Censits, Sidney Kimmel Comprehensive Cancer Center at John Hopkins, Baltimore, USA

Effect of abiraterone on PFS in de novo metastatic castration-sensitive prostate cancer
First results from the phase III PEACE-1 study (NCT01957436) show that adding abiraterone to androgen deprivation therapy (ADT) plus docetaxel significantly improves PFS in patients who present with de novo metastatic castration-sensitive prostate cancer (mCSPC) without any clinically meaningful additional short-term toxicity (Abstract 5000). Karim Fizazi, Institut Gustave Roussy, Villejuif, France, explained that while ADT has historically been the SOC for men with mCSPC, combining ADT with either docetaxel, novel hormonal therapies (such as abiraterone or enzalutamide), or radiotherapy to the primary tumour has become the new SOC in recent years, given that this approach has demonstrated improved OS. In PEACE-1, median radiographic PFS was 4.5 years in the SOC plus abiraterone arm versus 2.2 years in the SOC arm after a median follow-up of 3.5 years. In addition, median castration-resistant-free survival was 3.8 years and 1.5 years, respectively.
"The relative improvement of PFS was comparable in patients treated with or without docetaxel."

Karim Fizazi, MD, PhD, Institut Gustave Roussy, Villejuif, France

The phase III SWOG S1216 study (NCT01809691) failed to show a significant OS improvement with TAK-700 (an oral selective nonsteroidal inhibitor of 17,20-lyase) plus ADT when compared with bicalutamide plus ADT in newly diagnosed men with metastatic hormone-sensitive prostate cancer (mHSPC) (Abstract 5001). However, Neeraj Agarwal, University of Utah Salt Lake City, USA, highlighted that both median PFS (47.6 vs. 23.0 months; HR 0.58, 95% CI: 0.51, 0.67; p<0.0001) and complete prostate-specific antigen response rate at 7 months (58% vs. 44%; p<0.0001) were significantly better with TAK-700 versus bicalutamide at median follow up of 4.9 years. Further to the higher-than-expected OS in the control arm, a post-hoc analysis examined subsequent use of life-prolonging therapies and found that 311/641 (77%) patients in the control arm had received such treatments, compared with 203/638 (61%) patients in the TAK-700 arm. Thus data from the study suggest that men with metastatic prostate cancer are surviving far longer owing to treatment advances for castration-resistant disease.
"Early intensification of ADT in the mHSPC setting in combination with access to life-prolonging therapies in the metastatic castration-resistant prostate cancer setting is likely going to result in unprecedented OS benefits in our patients."

Neeraj Agarwal, University of Utah, Salt Lake City, USA

Closing Remarks
As a virtual event for the second year running, the 2021 ASCO Annual Meeting continued to provide the unique and unparalleled opportunity to connect one of the largest, most diverse audiences in global cancer care, along with enabling wider access to ground-breaking science and practice-changing research in oncology, the latest trends in clinical application, and treatment and insights on equitable cancer care. It is expected that more than 42,000 delegates from 138 countries will have accessed content during this year's meeting.
©Springer Healthcare 2021. This content has been independently selected and developed by Springer Healthcare and licensed by Roche for Medically. The topics covered are based on therapeutic areas specified by Roche. This content is not intended for use by healthcare professionals in the UK, US or Australia. Inclusion or exclusion of any product does not imply its use is either advocated or rejected. Use of trade names is for product identification only and does not imply endorsement. Opinions expressed do not reflect the views of Springer Healthcare. Springer Healthcare assumes no responsibility for any injury or damage to persons or property arising out of, or related to, any use of the material or to any errors or omissions. Please consult the latest prescribing information from the manufacturer for any products mentioned in this material.