The 2021 Annual Congress of the American Thoracic Society (ATS) was held between May 14th and 19th and showcased the latest advances and breakthrough discoveries that will reshape the future of respiratory science, patient care and global respiratory health. A robust scientific, educational and networking programme was delivered via the virtual ATS platform, which included clinical and scientific sessions, keynote series, postgraduate courses and meet the expert sessions.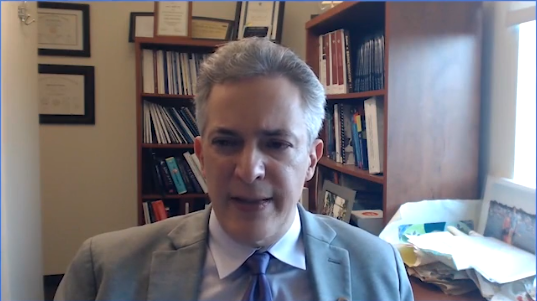 Juan Celedón, ATS President
ATS 2021 got underway with the opening ceremony and an address by current President Juan Celedón, who highlighted the extreme challenges of the past year which ATS has addressed with advocacy and a renewed focus on its over-arching mission to advance research and careers, clinical care and public health. Incoming President-Elect Lynn Schnapp then outlined key priorities and opportunities for the year ahead which include infrastructure upgrades, the leveraging of new learning methods and technologies and an increased focus on collaboration and knowledge-sharing.
"This past year, a once-in-a-century catastrophe has revealed the character and commitment of our ATS members who confronted the COVID-19 pandemic with selfless devotion to prevent further suffering and help those afflicted."

ATS President, Juan Celedón

GENETIC LUNG DISEASES
Ann Chen, Boston, USA, cautioned that in order for precision medicine to be translated to clinical practice, key issues such as cost effectiveness, generalisability to diverse populations and ethical considerations first need to be addressed. Precision medicine could prove particularly valuable in helping to allocate use of biologics to those lung disease patients who would derive most benefit.
Sickle cell disease
Michael DeBaum outlined potentially curative therapies for sickle cell disease (SCD) which include myelo and non-myeloablative haematopoietic stem cell transplant and gene therapy/gene editing approaches. Unfortunately, trials of Bluebird Bio's SCD gene therapy candidate were halted in February this year after 2 of 47 treated patients developed acute myeloid leukaemia (AML). This potential association is still being investigated and, moving forward, the COALESCE study will also seek to shed further light on the intermediate and long-term sequealae of curative therapy in SCD. COALESCE will focus on longitudinal changes in heart, lung and kidney disease and the incidence of clonal haematopoiesis of indeterminate potential and its association with AML/myelodysplastic syndromes.
Spinal muscular atrophy
Precision molecular therapeutics such as nusinersen, risdiplam and onasemnogene abeparvovec-xioi have transformed spinal muscular atrophy (SMA) from a rapidly progressive lethal disease into a more chronic stable condition, explained Mymy Buu, Stanford, USA. The efficacy of these new SMA therapeutics hinges on the time point of their delivery/initiation and the clinical status of the patient. Treated patients also retain residual neuromuscular deficits so evaluation of respiratory function and proactive management remain important.
Closing Remarks
Looking ahead to next year's congress, ATS is planning a live, in-person event in San Francisco which will be complemented by a rich array of online content. This hybrid conference will take place in May 2022, with final dates to be confirmed.
©Springer Healthcare 2021. This content has been independently selected and developed by Springer Healthcare and licensed by Roche for Medically. The topics covered are based on therapeutic areas specified by Roche. This content is not intended for use by healthcare professionals in the UK, US or Australia. Inclusion or exclusion of any product does not imply its use is either advocated or rejected. Use of trade names is for product identification only and does not imply endorsement. Opinions expressed do not reflect the views of Springer Healthcare. Springer Healthcare assumes no responsibility for any injury or damage to persons or property arising out of, or related to, any use of the material or to any errors or omissions. Please consult the latest prescribing information from the manufacturer for any products mentioned in this material.